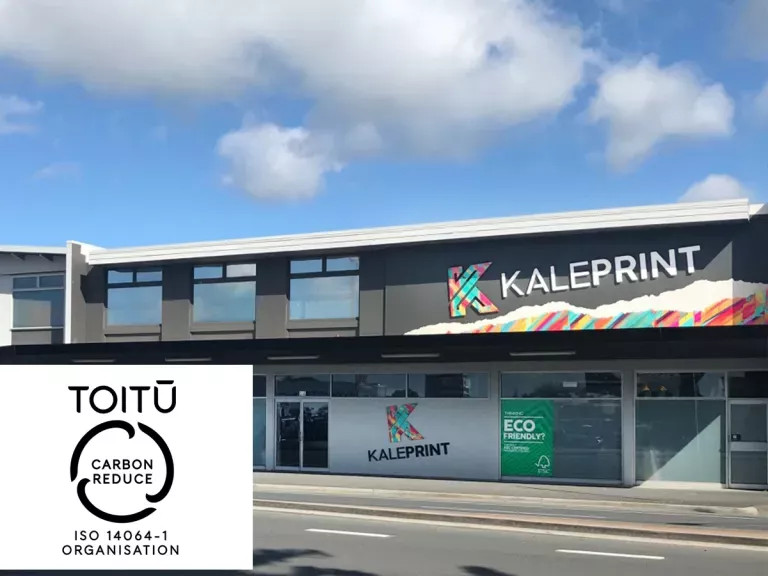 Tauranga-based Kale Print, an award-winning, family-owned and operated business with a reputation for quality, service and innovation, has achieved Toitū carbonreduce certification, further emphasising the company's commitment to the environment.
Toitū Envirocare is a New Zealand-based organisation leading positive change through a system of robust environmental programmes that are internationally recognised. It helps businesses be more sustainable by giving them the science-based tools, actions and evidence they need to make real progress.
The organisation helps to identify what data is needed to measure the greenhouse gas inventory. It provides tools and resources supporting businesses to set real and achievable emissions reduction goals.
Toitū arranges an independent audit to verify if the results are accurate and complete and recognises its members with certification logos and annual cycles sustaining a journey of continual reduction.
The Toitū carbonreduce programme is accredited by the Joint Accreditation System of Australia and New Zealand (JAS-ANZ). It is the world's first to be accredited under ISO 14065 and is recognised in over 60 countries through the International Accreditation Forum.
Kale Print brand manager Tessa Lawrence commented, "As leaders in our industry, we feel it is our responsibility to help forge a pathway for sustainability and to also inspire others to join us on this journey.
"Regardless of where you sit on the sustainability scale, taking action and making ourselves accountable when it comes to our environment is a no-brainer, with environmental, social and economic benefits.
"We've been on quite a journey over the last five years. Reducing our waste and energy consumption through smarter business practices and technology investment and actively pursuing environmental accreditation as proof of our commitment to a carbon-positive future.
New Zealand may be a small country, but as history has shown, we can be trailblazers affecting change globally. It's these first steps that make space to create a brighter future for generations to come."
This is not the first commitment to the environment shown by the company. In 2019 Kale Print achieved The Forest Stewardship Council (FSC) certification as the first printing industry business in the Bay of Plenty.
FSC is an internationally recognised organisation responsible for promoting and monitoring environmentally appropriate, socially beneficial and economically viable management of the world's forests.
by Piotr Wnuk June 23, 2023. NZ Printer