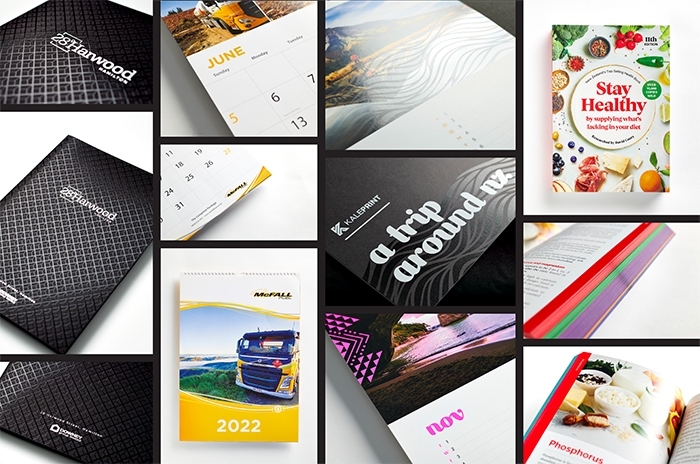 Established in 1993 the Pride In Print Awards are the pinnacle of recognition for printing excellence in New Zealand. Celebrating and fostering those who exceed the needs of the customer and drive the industry forward through innovation and pushing boundaries.
Judging is based on all facets of the production process, from typography and good design, through to print production and finishing. As well as celebrating those printers who excel in sustainability, workplace wellness and innovation.
On 17th June, the 2023 Pride in Print Awards were held at the Te Pae Convention Centre in Christchurch.
Kale Print were honoured to be awarded amongst their industry peers with 5 Gold medals.
GOLD

Kale Print 2022 Calendar

Category: Self Promotion
Judges comments: Nice clear toner print. Good use of multi colour effects of press. Good design & well executed print finishes.

~~~~~~~~~~~

Health House Stay Healthy Book

Category: Books over 32 Pages
Judges comments: Clean & tidy. Consistent colour. Great register throughout. Clean binding. Well finished.
~~~~~~~~~~~
McFall Fuel 2022 Calendar
Category: Calendars
Judges comments: Clean & tidy. Good printing. Simple but well executed. Nicely trimmed & bound.
~~~~~~~~~~~
28 Harwood Presentation Folder
Category: Presentation Folders
Judges comments: Clean effective design. Clean foiling. Effective Spot UV. Good Printing. Elegant well finished. Nice die cutting.
~~~~~~~~~~~
28 Harwood Presentation Folder
Category: Embellishments
Judges comments: Excellent finishing, foiling & UV. Well planned spine. Excellent registration. Clean foil coverage.
~~~~~~~~~~~