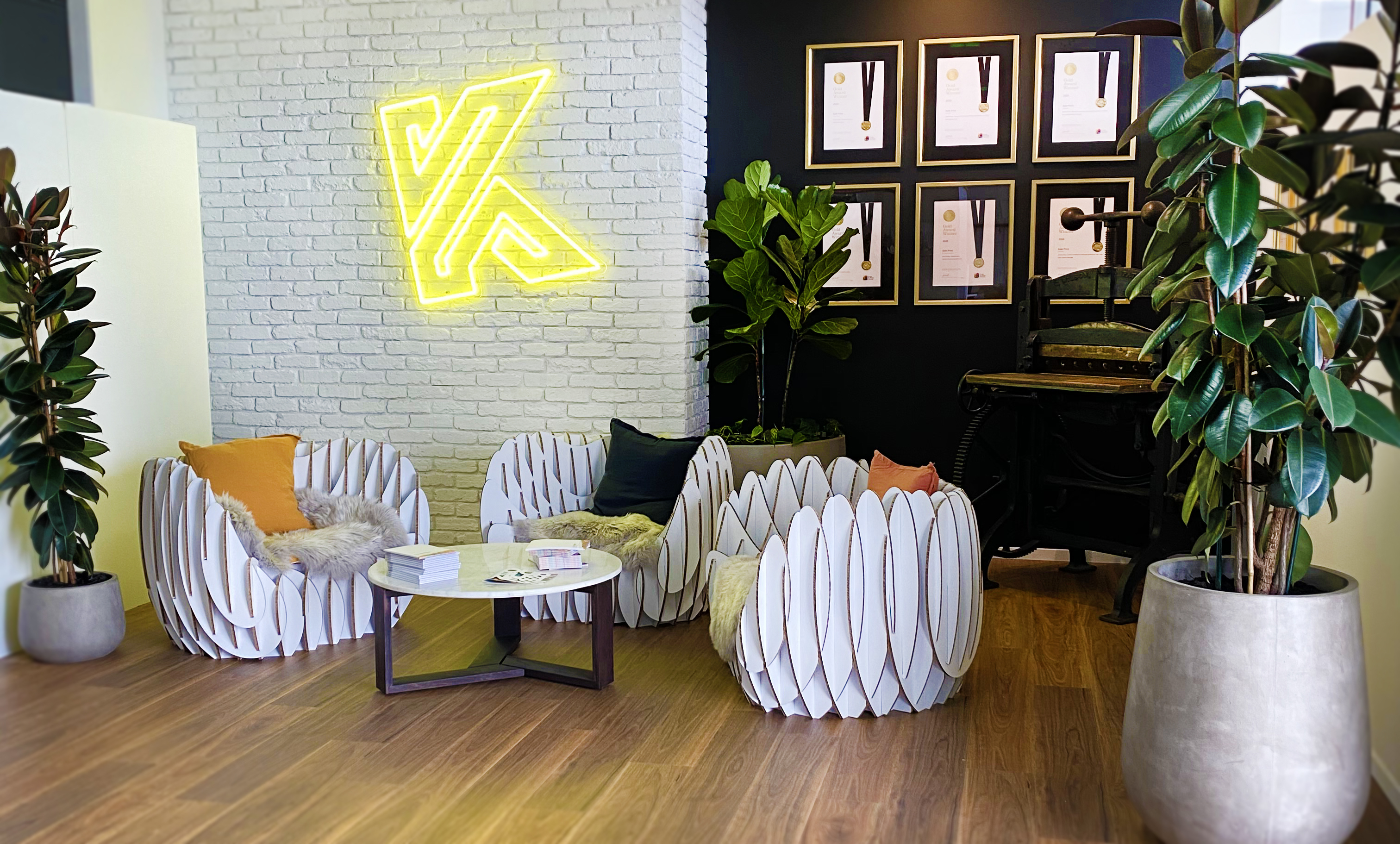 Kale Prints office transformation takes innovation and its commitment to sustainability to another level
"When clients visit our office and manufacturing facility in Tauranga, we wanted them to come away knowing they were in safe hands, working with a professional team that take great care in every project we produce, no matter how big or small", says Peter Lloyd, General Manager Kale Print.
After recently rolling out the new brand across all platforms, including building and vehicle signage, website and social media, we felt our office was looking tired and did not fit with the direction the business was heading.
"It is one thing to say you're an industry leader, it's another to live and breathe those values", says Tessa Rowe, Marketing and Sales Kale Print. "It's about creating a full brand experience, from when you first walk in through the doors to the moment we place the finished product in your hands."
Complete with seating made from 100% recyclable flute board and next generation LED Neon signage, the contextually appropriate set up showcases the breadth of service and capability utilising leading edge technology and creativity.
"Our reception chairs have made such a statement and have become a real talking point when our clients walk in the door. It's been such a delight to see the look on their faces. We wanted to showcase our in-house capability and do it in a way that was contextually appropriate. The use of Re-board® allowed us to dream big".
Re-board®, provided by Total Supply, was chosen to construct the reception chairs not only for it's eco-friendly credentials but for it's strength and versatility. It is the material of choice for exceptional point of sale material, displays and signage. From their FSC certified mill in Sweden, Re-board® contains no harmful components, utilising water-based adhesives, and can be recycled over and over again.
The new-look reception area creates a lasting first impression, tying in with Kale Print's new visual identity across all mediums and consistently communicating their values as a company and what they have to offer - A dynamic, progressive, passionate and creative team, all dedicated to providing their clients with a premium Kale Print experience and exceptional quality finish.
"We want our clients to feel as though anything is possible with regard to visual communications when you engage with Kale Print".
Thanks to our wonderful clients and supply partners who helped bring our vision to life.

NZ Flooring - Laminate flooring & trik-brick wall

Total Supply - Re-board® flute for chairs

The Tree Company - Plants & pots

Radikal Neon - LED signage

Prestige Framing - Certificate & Medal framing

ARC Fine Art Services - Frame hanging

JJ's Electrical Services - Hardwiring & spotlighting