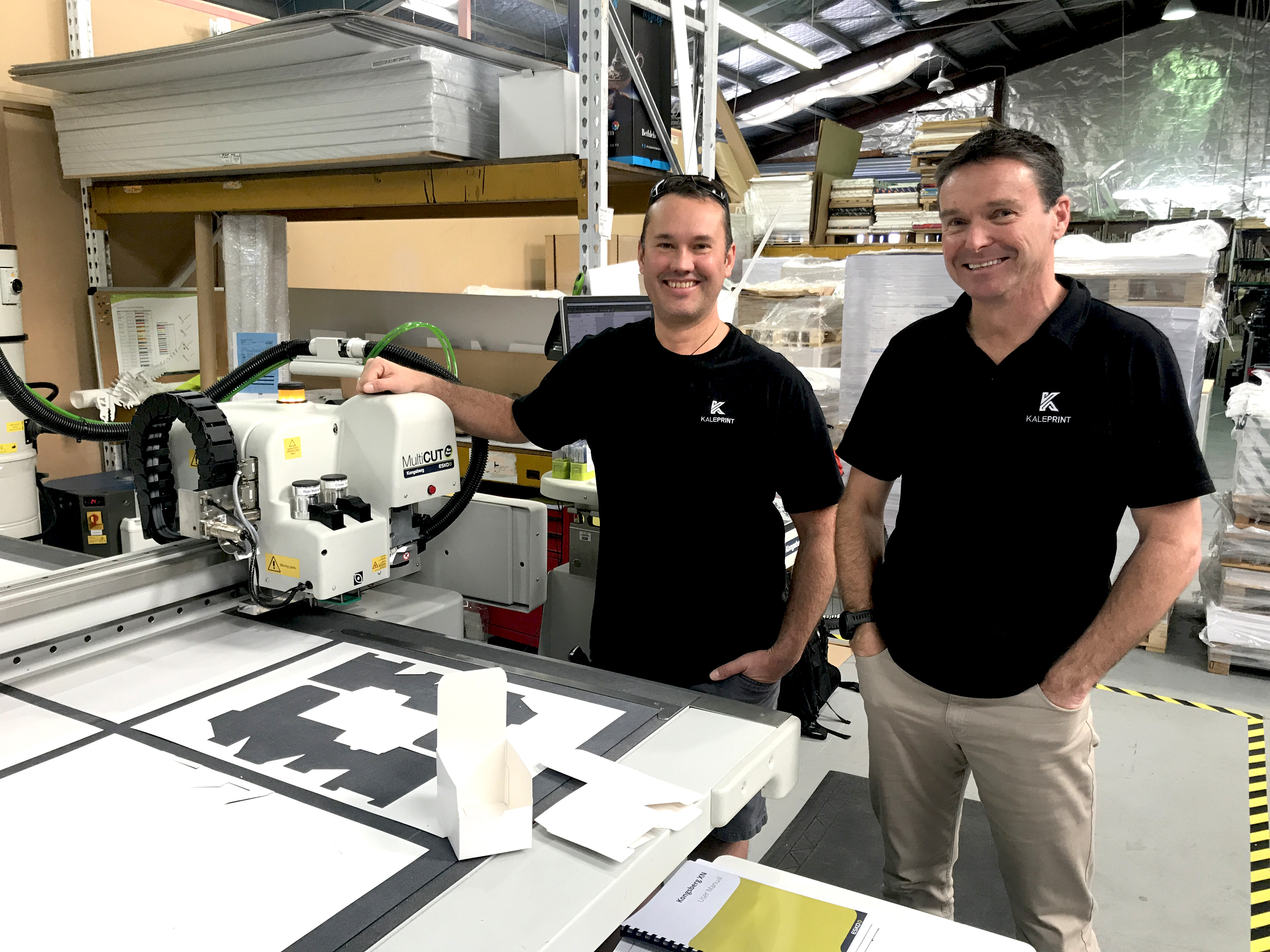 Cutting through at Kale Print: Rob Murphy (l) wide format manager and Peter Lloyd, General Manager with the Esko Kongsberg XN24 cutting table.
Recently, leading Bay of Plenty digital and offset print company Kale Print installed the Esko Kongsberg XN24 cutting table, supplied through Fuji Xerox New Zealand.
Peter Lloyd, General Manager at Kale Print says that, with the demand for signage and packaging solutions increasing, the Esko Kongsberg XN24 cutting table purchase marked a natural progression for the business.
He says, "It has been well received already, with our sales team taking on new enquiries for a diverse range of products. The automation has increased the speed of workflow, creating additional capacity, and enabling our wide format team to spend more time on innovation.
The Esko Kongsberg XN24 features a powerful 3kW engine, central to Kale Print's decision making. Peter says, "The MultiCUT-HP (High Power) is equipped with a super-strong, water-cooled milling spindle delivering up to three times faster milling speeds. It can handle a wide range of heavy-duty materials too, such as thick sheets of acrylic, wood/MDF and aluminum composite material."
The Kongsberg also has an automatic tool adjusting system that uses camera inspection and digital image processing to adjust the tool in the machine at the start of each job. He adds, "When we have a new job and we need a different tool, it sets up that tool for the selected substrate. So, changing over jobs is simple and so much faster than manually. One of its best features is the ease of operation."


"Even though it has been another turbulent year for our industry, we continue to invest in best in class technology. This is proof of our commitment to supporting our customers wide range of requests now and into the future. In particular our trade clients, where the combination of quality and speed is paramount in today's market."

Open for innovation
In adding the Esko Kongsberg XN24 cutting table to its range of solutions, Kale Print has created opportunities for innovation and product development.
Rob Murphy, wide format manager for Kale Print, says developing clever packaging solutions is a real passion. He says, "We have had a lot of fun making cool prototypes as well as products we could not dream of prior to purchasing the Kongsberg. These include furniture and flooring for boats.
"The Esko Kongsberg XN24 cutting table complements our larger offset technology. These samples often turn into high volume packaging projects. Our A2 and A1 Offset UV presses can print up to 800 micron, suitable for most packaging needs."
"We have enjoyed working closely with the sales, prepress and production teams to come up with innovative designs to fulfil our client's needs. Prototyping is a growth market for us.
"Who knows what the account managers will throw at us next, but we will give anything a go. We even found a way to repurpose the large cardboard packaging that comes with purchasing metal plates for our offset presses. It is now being recycled into cartons we can use for customer deliveries."


Trade commitment
Kale Print has a reputation for making the most of technology and innovating to stay ahead of the market, overcoming whatever challenges that it faces. Peter says, "Even though it has been another turbulent year for our industry, we continue to invest in best in class technology. In 2019 we purchased the Ryobi RMGT A1 LED offset press, a first for New Zealand.
"We also plan to upgrade our digital technology in early 2021, which will further enhance our offering. This is proof of our commitment to supporting our customers wide range of requests now and into the future. In particular our trade clients, where the combination of quality and speed is paramount in today's market.
"We are really pleased with the purchase from Fuji Xerox New Zealand. The installation went smoothly and the training from Chris Cordes was excellent. We were up and running in a couple of days."
Grant Blockley, packaging and applications specialist at Fuji Xerox New Zealand, says, "We are delighted that Kale Print has already found ways to use the Esko Kongsberg XN24 cutting table to improve its business.
"One of the features that makes the Kongsberg XN24 cutting table such a smart choice is its expandability for the future. Possibilities include tooling and functional add-ons; an innovative extended beam clearance capability; and productivity options such as conveyor feed, sheet feeder and a roll feeder unit.
"As its business environment changes, the company can take advantage of this and look forward to the future with confidence."